Diving in Crete
Relax on the sunny shores of Crete, where you are surrounded by scuba diving destinations. Spend the day exploring ancient relics, then head into the cool, clear deep.
Quick facts
There are dive shops dotting the entire shoreline of Crete, so you won't have a hard time finding a suitable place to drop anchor. The surprisingly clear blue waters of the Mediterranean beckon divers from around the world.

There are dives on Crete that run the gamut of experience levels, from newbies to masters. A particular favorite activity is night diving, taking the already surreal environment to new heights.

One of the most popular diving areas in Crete is Chania. You can find stone arches, fantastic volcanic rocky reefs, and an abundance of marine life in the water surrounding Chania town. See unique black corals and marine life that cannot be found anywhere else.
Rain and temperature
Water temperature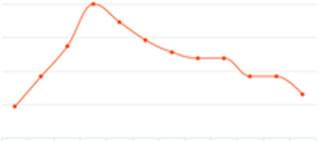 What to see
The Mediterranean has marine life that differs from anywhere else on the globe. You can find creatures ranging from tiny anchovies to large animals like the thresher shark, with its impressively long tail. Huge marine life like dolphins and whales sometimes make appearances, though they are less common than out in the open ocean.
Area
The largest and most populated Greek island, Crete is an impressive landmass in the Mediterranean. People have flocked here for centuries, basking in the warm sun. There are mountains and forests, all leading down to the spectacular beaches. Just offshore, there are a number of islets and islands worth careful exploration. Some were once important pirate haunts. The history in Crete is tangible, with primordial ruins around every corner. The island has played an important role in Greece's past, and is found in ancient texts dating back millennia. Zeus himself was said to be born in caves on the island. Today, more than 600,000 people live on the island, and the capital city of Heraklion is a booming metropolis. It is worth venturing into the many cities, towns, and villages that dot the countryside, giving yourself a fuller appreciation of the island.
Other attractions
Explore ancient cities and go to world class museums during your trip to Crete. Some of the most famous and beautiful beaches in the world are found on these shores, and the fishing is unmatched. For a swell day trip, head to the Botanical Park of Crete in Chania Town. This park comes highly recommended, and is quite impressively maintained.
Getting there
You can either fly onto the island, or take the ferry from Piraeus. You can also ferry in from Italy, or from Peloponnese and the Cyclades.
UTC+02:00
Note - Travel to any destination may be adversely affected by conditions including (but not limited) to security, entry and exit requirements, health conditions, local laws and culture, natural disasters and climate. Regardless of your destination, check your local travel advisory board or department for travel advice about that location when planning your trip and again shortly before you leave.